Report From The Toronto G20 Site - June 24
Sign The Petition Demanding Toronto Police Chief William Blair Be Removed From Office
The One out of 15 cops who is an absolute sociopathic jerk will run afoul of the 2 out of 3 similar creeps among the anarchist troublemakers and all hell will break loose.
Ruffian.Angel @ ThemisMusic.com Share

<< Previous | Next >>

Toronto June 24 - After a long hard day of work, Kathleen and I decided to head to the Queen Street West Village for dinner at Sushi Time near the neo-Gothic terra cotta façade CTV Globemedia Bldg. at John Street. Occasionally and as often as one night a week when we are not doing a show we go there or a place near Steve's Music and often head to the Rivoli afterwards.

On the Thursday night before the G20 Summit we meandered south from Queen West on John Street amidst many squads of heavily armed, body-armoured police in riot gear. Toronto was a ghost town. There was no traffic except cops racing this way and that. Parking slots were everywhere.

We stopped to look at the now boarded up "Circa" building. It was a great night club one year ago. Now gone.

Workmen were boarding up the Second Cup coffee Shop (cell-phone camera pic below) as far too many cops in riot gear provoked trouble with picture takers.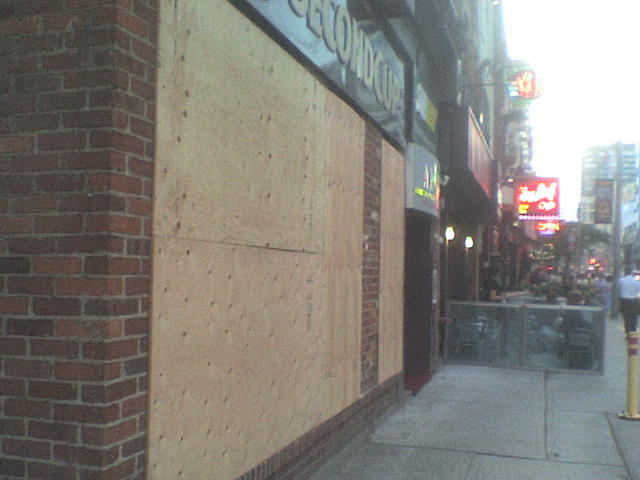 Further south, Chapters' windows were being boarded up by workmen. People are showing fear of this G20.

Chapters being boarded up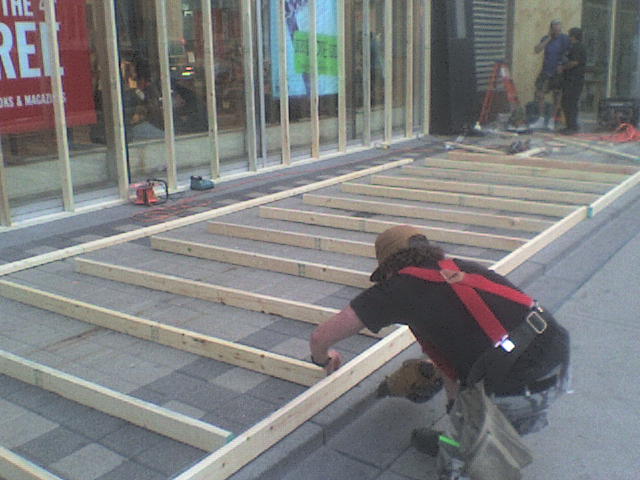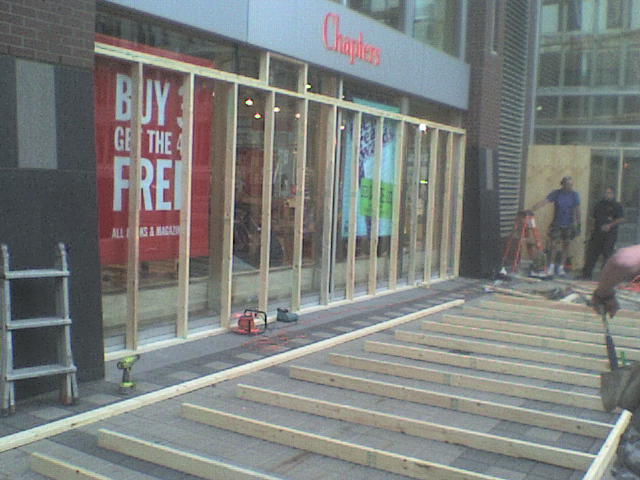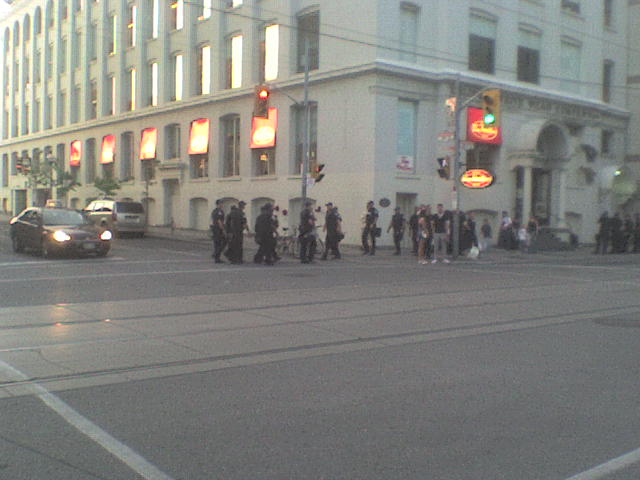 It was odd seeing so many battle-dress cops at the "Royal Alex"


Royal Alex surrounded by platoons of heavily armed police troops. Further south at Wellington we encountered the large 3-metre fence and concrete barricades along with hundreds of police troops in heavy gear. It was around 8:30pm EDT. The temperature was 22deg (72F) and very comfortable, otherwise these police task force members would have been roasting in all that body armour.

We at first met and talked with about 15 different police officers as a bus full of coppers unloaded and poured out on the sidewalk alongside us. Male and female, all friendly, good-spirited and although inquisitive (we had the required identity passes), very polite.

Then came the exception, you know the type, your basic high school loser who surprised you by becoming a cop to replace failed self-esteem.

Because of these pictures we took, we were stopped by three including the aforementioned and detained for nearly an hour The questioning was belligerent, demeaning. It seemed as if the questioner wanted to do all the talking, when he wasn't just leering at Kathleen. It got a little past ugly when we stopped answering questions as friendly citizens and demanded "your need to know". The questions had by then delved into marital matters and other overly personal stuff. (Weird.)

We went on our way but not before Kathleen was completely harassed. Throughout we played our role as humble citizens and bid them a safe event. To that we got a snotty response ("like sure you really mean that") and we shrugged and went on our way. To our backs we were told that we would be stopped many times again and would hear about this because we are taking pictures.

Up the street at "Hooters" we laughed as a squad of riot police cavorted with the Hooters' waitresses cavorting and taking pictures of the coppers with the scantily clad women. That bunch seemed perfectly normal. We chatted with a couple who seemed to be model 'community policing' specialists.

We bought a carved bar of soap from a street person as a dozen motorcycles went screaming past with much shouting. From a patio bar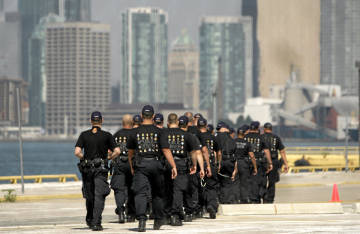 nearby, the booing, cussing and catcalls from patrons barely competed with the noise of the coppers' practice road block and motorcycle hedge hogging at some outlandish speed and roar. We could see that your basic, uninhibited Torontonian is not happy with this G20 invasion of Marshal Law.

"Toronto the good" is tainted. From all appearances it will get much worse. This is an invitation for trouble at a huge expense in money and dignity for the people of Toronto. The leaders who called for this event in Toronto have no regard for the people they are supposed to be serving.

With so many thousands of police, and so many sketchy characters showing up to demonstrate, there is bound to be trouble when the 1 a**hole out of 15 cops encounters the 2 out of 3 a**holes among the demonstrators.

Suggestion: Stay indoors or stay away from Toronto altogether. For this weekend, this house is no longer a home. .



Ruffian.Angel @ ThemisMusic.com