PM Stephen Harper; Premier Dalton McGuinty; Toronto Mayor David Miller & Police Chief Wm. Blair! You Are So Fired for Bringing Martial Law to Toronto!
G20 Site - June 25
Sign The Petition Demanding Toronto Police Chief William Blair Be Removed From Office

<< Previous | Next >>
If anything should come of this G20 Summit it should be the resignation of Prime Minister Harper, Dalton McGuinty, Mayor Miller and Police Chief Bill Blair. We once had a good mayor and police chief in Toronto. Lastman got old and Miller fired Fantino because he didn't like the colour of Julian's tie.
Toronto Mayor Miller must resign for allowing Ottawa to bring the G20 Summit to Toronto; Premier Dalton McGuinty is accountable for handing over secret unconstitutional powers to Toronto Police; and Police Chief Blair should be fired and jailed for ordering his troops to attack the public with violence, wrongful detainment, search and seizure.
Ruffian.Angel @ ThemisMusic.com

Toronto June 25 - The G20 Gets Underway

Last night after we were harassed by police at the G20 site, later in the wee hours a stabbing took place outside our Toronto home. That 's something new. The glass bus stop was smashed to smithereens. Cops were everywhere. People hid in their homes.

---
Nothing about this G20 conference is good for Toronto.
---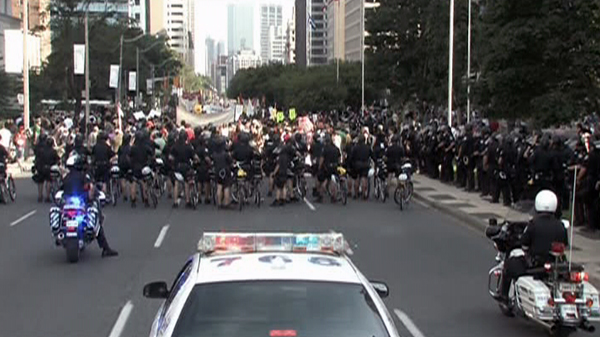 Our government has gone into overkill mode creating a monster Martial-Law-force to intimidate the worst of its citizens from attending in downtown Toronto where we ordinarily live. In doing so our government has ignored if not violated the rights of ordinary Canadians.

The people driven from our city are its nice residents and business people. Downtown Toronto is like a ghost town. Businesses are boarded up and deserted for the weekend of June 25. Major transportation hubs are closed; cell phone transmissions are being blocked and everywhere you look is a troop with a strange, nasty weapon.

---
How do we call our Army back from Afghanistan to help protect us from our government?
---

The remaining locals on the sidewalks are harassed by roaming gangs of police, many of whom will eventually go back home far from Toronto, with no accountability.

The only people NOT AFRAID of this nastiness are the creeps who typically, because they are creeps are drawn to a fight like moths to a flame. The mob rule of a crowd of cops is to intimidate the other side. It's been happening for weeks. They provoke a fight which they plan to win with excessive numbers and then attempt to justify their overkill existence saying "we saved you" in the aftermath.

A significant number of the people drawn to Toronto from around the world are thugs, activists, anarchists, troublemakers, assholes. Alower key approach would have been better.

Is there a political leader out there in Canada who would first use a 'litmus test' before approving an event like this? The 'litmus test' should be "Does this event infringe upon the rights of the constituents and is it in their best interest?

At the request of the Toronto Mayor and Police Chief Blair bback in May the Ontario Liberal government of secretly designated the entire G20 security zone as a "Public work" under a little-used act that vastly expands police arrest powers.

After the extreme violation of Canadians rights seen this week, we should never vote for another Conservative politician again. We trusted Stephen Harper far too long. He is a sonofabitch for doing this to Toronto.

Would you like to know the political thinking that would allow a federal government to screw over an entire city? Burn the city that never elects your party. Don't hurt a constituency that is your own. In this case the Conservative minority government has a chance to screw-over a hated Liberal bastion: Toronto which would never elect a Conservative anyway.

Police have the right to detain anyone who does not openly disclose their life story and produce acceptable identification.

Suggestion: Stay indoors or stay away from Toronto altogether. For this weekend, this house is no longer a home. .



Ruffian.Angel @ ThemisMusic.com