< Previous
|
Next >
When you hear about these millions of barrels of oil,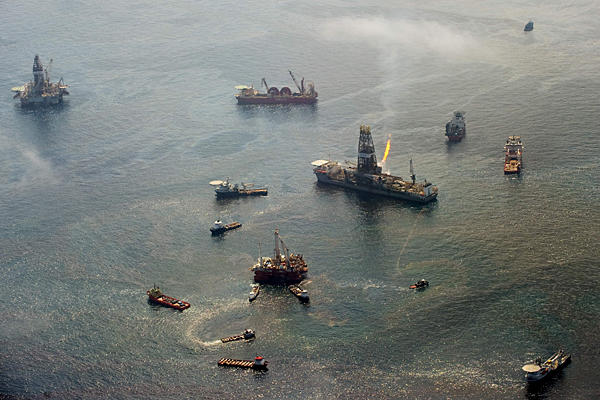 remember it is a commodity worth about $71 USD
per barrel and it makes politicians powerful and oil baron's very rich. If you are in any of those categories you likely won't enjoy this article. If you are British Petroleum (BP) it must make you crazy that all that gold is pouring overboard.
Of course BP wants this leak stopped.
Let the cash value of oil pop into your head as you realize that taking risks with your living environment
is what U.S. Presidents have been willing to do for decades in their quest for maintaining world power for America and cash money for a relatively small few oil-Industry stakeholders.
Aggressive 'Deep Water Oil' exploration is the Obama plan
to thwart easy-oil rich countries like the U.S. enemy, Iran. Always at war with the Islamic nation, it is the Islamic nation that controls the bulk of the globe's easy to pump, cheap oil.
Remember that for oil, Washington killed or caused the violent death
of from 946,000 to 1,120,000 (
Source-ORB
) people in Iraq, apparently in the pursuit of Iraq's enormous oil resource.
Why did it take the U.S. Administration a month
to wake up to the Gulf of Mexico fiasco? Barack Obama is the largest recipient of BP election money in a few decades according to Washington observers maintaining tabs on campaign funding. Was Obama late at the starting line because of his 'indebtedness' to BP?
Why did the U.S. Administration do nothing
except pound away rhetorically at the British? It has been incessant: "BP is at fault and BP will pay", says Obama every time he can get his face to a microphone.
BP has done everything in it's power to fix the oil leak at MC252 (dubbed Macondo).
BP warned that there would be no "silver bullet" but was willing to try them all. In the long run, only a relief well or two will solve the problem in any worthwhile magnitude according to all the history there is on oil drilling in any environment. No one has argued that point with BP.
This reservoir that MC252 has struck is enormous and it is unrelenting in its force up the breach
created by excessively aggressive offshore oil drilling using untried techniques in deep water (over 500 feet is considered deep water but in this case the well starts at 5000 feet). That's what the U.S. government authorized in its hope to reduce its oil-dependency on its political enemies.
On June 9, 10 and 11, BP transferred 115,000 captured barrels of oil
from its drilling ship
Enterprise
to a barge, which is discharging the oil at a facility in Mobile, Alabama.
While relief well drilling efforts get fully underway, British Petroleum Plc (BP) said on 11 June (last Friday) it collected 15,400 barrels (646,800 gallons/2,448,404 liters) of oil in 24 hours on 10 June, a small decrease from 15,800 barrels collected in the previous 24 hours.
That brings the cumulative total for six days to more than 88,700 barrels (3,725,400 gallons/14,102,173 liters), BP said.
BP said it is reconfiguring a service rig used in the failed "top kill" attempt to receive and burn an additional 5,000 to 10,000 barrels per day.
Once a "hard cap" containment system is in place by the middle of July, BP's oil-siphoning capacity will rise to up to 50,000 barrels per day, U.S. Coast Guard Admiral Thad Allen said. BP's collection capacity is currently about 18,000 barrels per day, Allen said.
No engineer nor scientist with a good idea has been turned away by British Petroleum.
BP aggressively pursued the leading experts all around the world while it both bowed to the Obama Administration's pressure and continued on its own steady, expert path.
BP has admitted financial responsible for the '
Deepwater Horizon's
' gusher
, and the White House should want the company to stay healthy enough to honour those obligations. Instead, the Administration's denunciations and legally dubious demands for escrow and extralegal compensation to a government fund are compounding the damage.
---
The smokescreen created by Obama and his political supporters to place blame on the British has backfired.
---
As the current crisis began, BP was a wealthy enough company
to both resolve the current crisis and withstand the aftermath in terms of massive clean up operations.
Under the powerful assault against the company launched by the Obama Administration
, BP's worth has plummeted some $90 billion by yesterday.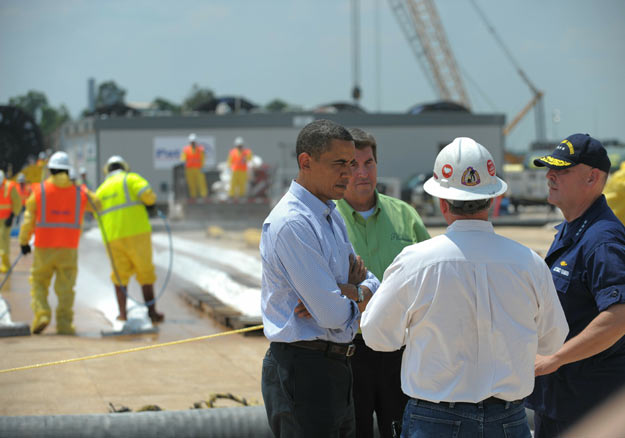 Coached by Obama, Americans have stopped buying BP products
but, ironically, the damage was caused on a U.S.-owned oil rig rented to BP by
TransOcean
, where the drilling was being done by the U.S. Company, Halliburton which is renowned as connected, powerful, and always at the root of some controversy.
In the war of the U.S. vs. BP
,
the United States is winning. BP is doubled over bleeding
red ink
.
---
Hopefully Obama does not kill BP before this thing is over
because there is no entity on the planet willing to step up to the plate and fix the problem.
---
With all its reputed might, America cannot fix the woes of MC252.
There is no United States paramilitary organization, nor environmental agency with the equipment and know-how to deal with this type of disaster. That is not to say that such capability couldn't be developed in short order, but so far, the environmental-protection efforts of the U.S. government are tokenism without substance.
---
Would Hillary Clinton have handled this better?
---
None of the promises made by Obama have been kept.
The U.S. still has 142,000 troops in Iraq and has been spending trillions on that war. Those troops should be recalled to protect America on its own shores.
Give them mops, not guns.
America needs that kind of protection. Who will deliver it?
Obama says this current crisis is a national disaster the likes of 9/11
.
Why has he done nothing but pick on an oil company?


Does this Charlatan care how much of earth's living creatures are destroyed?
Is the White House immune from ecological disaster? Numb to the needs and feelings of the American nation? Or just so brazenly power hungry that no amount of suffering in the Gulf of Mexico will motivate an action-oriented response.
---
Politicians and Oil Companies. What is new about this love/hate alliance of power-hunger and money-greed?
---

It's a lunch-bucket mob mentality that created a strategy for Obama to drop-kick British Petroleum
in the press instead of actually taking a leadership role and dealing with the problem. Obama himself has shown no class, no leadership and an ineptitude never before seen in the White House. What an embarrassment to America and the world. Whoever at British Petroleum agreed to indirectly fund Obama's election needs should be fined and fired.
---
The Obama Administration has turned away Mexican and Canadian ships willing to help in the clean-up.
Obama ordered BP to pay U.S. Union-operated companies only and they don't want anyone working for free!
---
Which Oil Companies have the strongest voices in America?
Is it ExxonMobil (United States), British Petroleum (United Kingdom), Chevron Corporation (United States), ConocoPhillips (United States), Halliburton (United States); or Shell Oil Company, (United States subsidiary of Royal Dutch Shell)?
Have you noticed that the drillers of this MC252 well have disappeared from the scene?
Halliburton is more than willing to let British Petroleum take the fall for this one. The well-connected and very powerful Halliburton would have Obama's ass well and truly kicked for mentioning that name in a press interview.
Who is left? ExxonMobil would love to have people stop using the
Exxon Valdes
as the record oil-eco-disaster.
Their lobbyists would certainly urge Obama advisors to sink BP. It's boom time in the Gulf of Mexico and the offshore oil leases bring in a fortune as over 1500 oil wells pump or drill away without competition from BP.
What government agencies were responsible for the oversight
of Washington's aggressive, greedy offshore drilling policy?
The Minerals Management Service (MMS) within the U.S. Department of the Interior
is responsible for managing offshore oil and gas and renewable energy leasing and development on the Outer Continental Shelf (OCS), including ensuring that such offshore energy development is done safely and in an environmentally responsible manner. Recently, MMS has received widespread criticism, with claims ranging from inappropriate interactions and relationships with oil and gas representatives to perceived bias toward the industry, leading to the agency's alleged failure to enforce rigorous environmental and safety standards.
---
Boom time in the Gulf of Mexico continues for everyone except BP.
Meanwhile, Shell plans to quietly start offshore drilling off the coast of Alaska in a few months!
---
President Obama likened the impact of the spill to the effect of the Sept. 11, 2001
, terrorist attacks on security and foreign policy. "This disaster is going to shape how we think about the environment and energy for many years to come," he said on 13 June in an interview.
But U.S. policy has not changed, drilling goes on as usual despite an alleged, murky moratorium
on new drilling for a few months. Deep water offshore oil drilling is the Obama administrations promise and Shell Oil plans to start drilling off the coast of Alaska later this summer.
Obama barely touched the surface when he talked about reshaping how we think about the environment
and energy.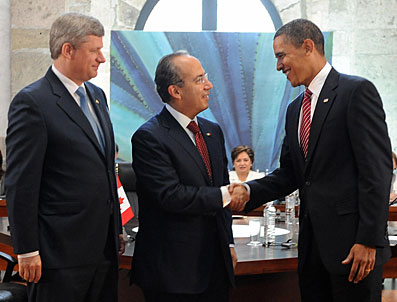 U.S. President Obama, Mexican President Felipe Calderon, and Canadian Prime Minister Stephen Harper
have the power to make a difference to North America's Environment Today. They must put an end to offshore oil harvesting. Oil is not the answer. Saving the Earth Environment is a new priority.
---
What must happen now is that all offshore oil drilling must be stopped and all wells phased out.
It is time to seriously pursue alternative fuels instead of trying to make oil cheaper and prolong the rule of the Oil Barons now running the world.
Obama should bring the 142,000 troops back from Iraq as he promised
what seems a long time ago, now. He should have those troops working in the Gulf of Mexico on a massive clean-up operation.
---
< Previous |
Next >
--Ruffian.Angel at Themismusic.com